pressxchange in numbers
our audience
Our users are senior decision makers who are active, engaged and in the market to buy. We reach printers across the globe and with our profiling and data collection activities, we know what they want. Connecting the buyer with the right supplier is what we do best.

You can advertise to our whole audience or segment it into Regions and or Business Types.


Match by Business Type:
Printing Companies*
67%
New Equipment Suppliers
7%
Service Companies
19%
Finance Companies
2%
Used Machinery Dealers
10%
Consumables suppliers
6%
Engineering and Services companies
5%
Auctioneer and Valuers
1%

Region:
North & Latin America
37%
EU
30%
Asia
17%
Rest of the World
16%

*
Printing companies breakdown:
Book Printers, Bookbinding, Carton Manufacturer, Commercial printer, Flexo and Gravure, Forms Printer.
Inplant, Label Printer, Packaging and Converting, Pre-press, Web offset printer
Direct and creative ways to reach them
Classified advertising
pressXchange has the most up to date database of machines available for sale. Built and maintained around an intuitive and relevant search system, where buyers can find machines by category, manufacturer, and product features.

Listing your machines on pressXchange offers you:
Exposure to 170,000 potential buyers from 188 countries around the world
Dedicated details page for each machine including image gallery
Response reports enabling you to track views and enquiries on each machine
Instant and direct contact with buyers enquiries
Flat rate fee for listing, no commission on sales
Auto Machine upload through API and XML feed option
Email marketing

Recruited from our 170,000 registered users, we have a database of 80,000 opt in subscribers, which is available for you to market to. It is the quickest and most direct access to our buyers and delivers an average open rate of 20% for our email campaigns.

Of course you want recipients who are well-profiled, qualified and real. So we invest to make sure we deliver that. We use industry-leading marketing technology from IBM to offer our clients creative and robust campaigns, which have superior deliverability and reach. You can build your own list, and access a targeted audience to maximise the relevance of response to your product or service.

Contact the team for an up-to-the minute count on recipients for your desired target group.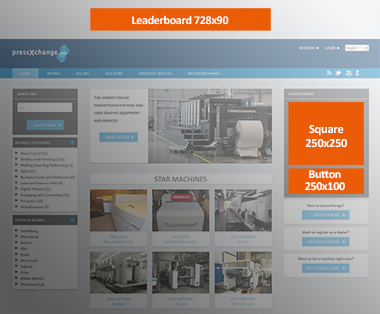 Banner advertising

pressXchange.com understands the importance of building brand awareness and increasing traffic to your organisation's site and so there is the opportunity to run display advertising across the site. This can be linked to keywords or brands in order to target the most relevant users of the site.

There are various options at your disposal including leaderboards, large banners and buttons. A display campaign on pressXchange.com can dramatically increase your company's exposure in the most cost-effective ways
Activate Buyer Reach on your campaign

Through this brand new service, we leverage data that we collect about our user's behaviour on pressxchange.com, such as: Type of machines viewed, Location and Number of visits.

We cross this data with our users profile information to identify buyers most likely to be interested in your products. Our sophisticated ad serving software then ensures your campaigns are tailored to this audience to improve your chance of online conversions resulting to more sales.
| | |
| --- | --- |
| Contact us, and we'll design a tailored digital campaign to meet your sales and marketing objectives. | |