WGM is ready to donate a replacement Heidelberg platen to get them going again.
November, 2019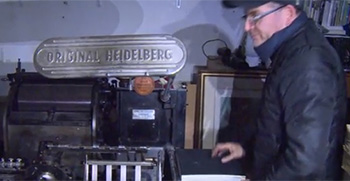 "We lost our paper stocks, completed work and various materials. In Venice we are always prepared for flooding, but we did not expect anything like this", says Luca Valonta, who has owned the business with Michele Costantini since 1989. Grafiche Ellemme Venezia has existed in the S. Croce district of Venice since 1956, specialising in high-quality historical letterpress printing. The materials are not the only things damaged by the tide that between November 12 and 13 reached 187 cm, flooding the whole city: underwater there was also a Heidelberg platen press used by the small firm to print its traditional letterpress work. "We do not know exactly what the condition of the machinery is because we have not yet had the opportunity to assess the actual damage," continued Valonta, "but 60 cm of water came into our workshop, inundating the motor which, being electric, will be very hard to repair. When we saw the water enter through the windows the other night we cried: we saw what we had created over thirty years disappear in five minutes." Thanks to a regional TV news program, the troubles of Grafiche Ellemme Venezia came to the attention of World Graphic Machine (WGM) in Castelfranco, Veneto, in the province of Treviso. WGM sells new and used printing machines. Late on the morning of November 14th, an e-mail arrived at Grafiche Ellemme from Alberto Rui, the export sales director of the Treviso company. "We saw on TV that your Heidelberg Stella ended up underwater. Our hearts went out to you and we would like to help you in some way," wrote Rui, who goes on to say that WGM also has a Heidelberg platen, and that the company's managing director, Mauro Beghetto, would like to donate it to the Venetian letterpress shop.
"I have no words to describe this gesture," Luca Valonta said to Stampamedia "but before accepting this gift maybe one of their technicians can come and check out our machine: we have been working with it for thirty years, so saying goodbye would be a great blow," continues Valonta who says he has not yet had a chance to respond to the offer. The situation in the printing house is still difficult: "We are trying to clean up the shop - we have thrown away forty bags of damaged materials. But for the press I'm afraid it will take some time to assess," explains Valonta, referring to the damage caused by salt water to all the firm's machinery. "In any case it could have been worse, apart from the damage nothing else happened to us; there are other small businesses that have been completely destroyed: one of the street kiosks ended up being washed to the sea. We've been touched by people's kindness: two days ago groups of high school and university students came by to ask us if we needed help. And this is a beautiful thing to do" concludes Valonta.
This story has been taken from www.stampamedia.net, Italy's leading graphic arts magazine and website.
Read all latest industry news »