News and Views / Face Down Your Fears
By Zeke Taiwo, September 2016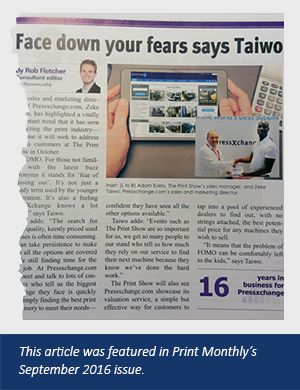 FOMO. For those not familiar with the latest buzz acronyms it stands for 'fear of missing out'. It's not just a trendy term used by the younger generation. It's also a feeling pressXchange knows a lot about.
The search for good quality, keenly priced used presses is often time consuming. It can take persistence to make sure all the options are covered while still finding time for the day job. At pressXchange we meet and talk to lots of customers who tell us the biggest challenge they face is quickly and simply finding the best print machinery to meet their needs – confident they have seen all the other options available.
Around 5,400 people are expected to attend The Print Show in October. Only the second show of its kind in the UK, it is expected to be a must-attend event in the industry diary. And it's a chance for customers to tell pressXchange how their lives can be made easier when looking for new and used machines.
"These events are so important for pressXchange," says Zeke Taiwo, pressXchange's sales and marketing director. 'We get so many people to our stand who tell us how much they rely on our service to find their next machine because they know we've done the hard work. Our marketplace puts presses from around the world, and the people who rely on them, together in a simple and effective way.
Of course our customers also tell us how we can improve our services and add even more value. I am very excited that The Print Show this year will also see us launch a brand new service to customers. All will be revealed in October."
The Print Show is also a chance for pressXchange to explain more about their valuation service, a simple but effective way for customers to tap into a pool of experienced dealers to find out – with no obligation – the best potential price for any machines they wish to sell. Again it means pressXchange customers can rest assured they are getting the best information to inform any decisions they make.
Which means that the problem of FOMO can be comfortably left to the kids.