GRAND OPENING OF THE TIMOTHY UPTON LIBRARY
January 4, 2017
Upton Family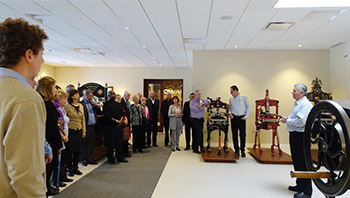 Dedication ceremony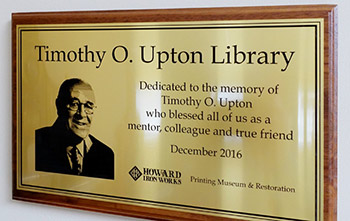 Timothy O. Upton Library plaque
On December 16, 2016, family and friends gathered at Howard Graphic Equipment's new facility to inaugurate and pay homage to a Printing Industry legend. Mrs. Helen Upton, daughters Julie and Heather, son Anthony, spouses and all the grandchildren were joined by industry leaders from past and present.
Tim Upton spent his working life in the graphic arts. In 1959, Tim, fresh from emigrating from Britain, landed in Canada, where he went to work for Sears Ltd. Sears represented a great many printing and bindery brands and had offices across Canada. In 1984, Tim continued his career with Heidelberg Canada in the role of Sr. Vice-President of Sales. Tim spent his last ten working years with Howard Graphic Equipment Ltd. Sadly, Tim passed in 2015.
Started in 1967, Howard Graphic Equipment Ltd. provides pre-owned late model machinery to the graphic arts. Based just outside of Toronto, HGE does business in over 74 countries across the globe. A. Upton Family B. Dedication ceremony C. Timothy O. Upton Library plaque A B C
Contact:
Liana Howard
Howard Graphic Equipment Ltd.
T: (905) 821-0000 Ext. 231
Focussing on the preservation and history of the Printing Industry, Howard Iron Works showcases machinery and implements with a specific focus on the years 1830 to 1950. The Upton Lbrary is the counterpoint of the facility and holds over 1,000 books dedicated to the printing art and technology
Contact:
Howard Iron Works Printing Museum and Restoration
Howard Graphic Equipment Ltd.
T: (905) 821-0000 Ext. 231
Read all Howard's articles »