Out with the Old. . . Woaa, Not So fast!
January 28, 2019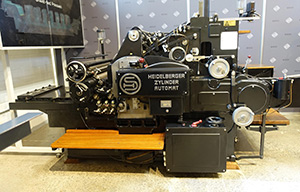 1950 Heidelberg OHC
(original design first launched in 1935)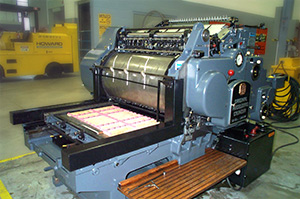 1976 Heidelberg SBG with cutting die in bed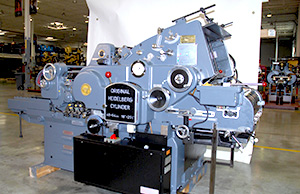 1976 Heidelberg KSD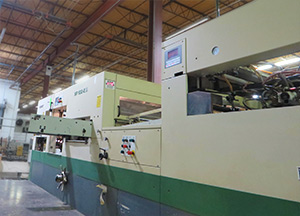 Bobst SP-102-E with stripping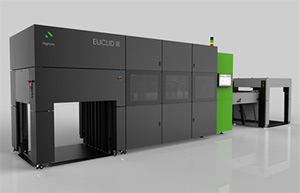 Highcon EUCLID
Decades ago our company represented Brandtjen & Kluge stampers and embossing presses in Canada. The Kluge platen press, based on patents dating back to 1860, has managed to outlast everyone including the original inventors -- George Gordon and Chandler & Price. During the 1960s, as letterpress quickly disappeared from printing plants, Kluge, who made their name in 1919 with an automatic platen feeder device, refused to go quietly and embarked on a road of re-engineering the iconic Gordon platen and re-emerge in the specialty segment long utilized but starving for a better and easier way of production: Hot foil stamping and embossing.

When we took on the agency, Kluge had launched the enhanced 14 x 22" EHD platen. This press included a 3-draw hot foil attachment and a brilliant "dwell" feature, which used die-springs to allow the platen to remain closed on impression. Dwell provided more time for the paper to seat into the hot die. Heidelberg's "TP" platen was also equipped (by 1967) to hot foil stamp. But there was no dwell option and more importantly the design of the press with the gripper needing to pass over the platen, negated the ability to produce very deep impressions compared to the Kluge EHD. Also Kluge had a larger sheet size and provided more impressional strength.

Kluge's results are unbelievably beautiful. To showcase the magnificent embossing, Kluge produced many stunning pieces as handouts. Every time we would pull them out to show prospective buyers the reactions were always the same: Wow! Most of our prospects were not active in the field of hot stamping and embossing – it was one of those dark arts everyone loved but few had the knowledge or skills to integrate into their print shops. Inevitably talk would turn to other things such as the cost of metal dies. Although magnesium was (and still is) the cheapest form of embossing die, in order to achieve multi-level stunning effects required engraving manually into brass. Just as the skilled engraver, who creates the silver dollar, brass engravings demand great competence as opposed to the single or two level magnesium die, which exposed with film, creates the relief with acid etching. Intricate brass dies can also cost thousands of dollars.

That's where we lost a majority of our prospects: the cost of dies seemed prohibitive, 'who would pay such a fee, and how could we make a profit running letterheads and business cards?' It became crystal clear to me that although prospects swooned over the beauty of the samples, reality soon swooped in to remind them this might be a scanty market and not particularly lucrative. Would their customers pay three or four times the cost of printing or thermographed stationary? Event invitations seemed also scarce and an unreliable source of revenue. Not to be deterred, Brandtjen & Kluge focused on the specialty shops already familiar with embossing and stamping and continues to successfully service this specialty field to this day.

In May 2012 a small Israeli company caught the world's attention with a revolutionary Diecutting and scoring machine. Using a laser, the machine can die cut the most intricate shapes imaginable. The scoring hurdle was dealt with by using a liquid polymer applied to a sheet of Mylar--mounted on a cylinder, then cured rock hard with UV light. No more steel rule dies and no more matrix for scoring. Most importantly virtually no make-ready or waste.

This company -- HIGHCON, has continually improved their platform, which from a distance slightly resembles a Bobst SP76 Autoplaten, and remains poised to reap the benefits of a radically new technology.

That hasn't happened yet. Yes Highcon continues to close that gap. Although lasers leave a disagreeable brown burn mark as they slice through the substrate, this minor inconvenience is not the biggest reason everyone hasn't tossed out their Bobsts and Heidelberg cylinders. Several reasons float to the surface. The biggest perhaps is the cost of equipment versus the cold realities of revenue generation. These B1 size digital machines are expensive and slow.

Along with just about everyone else that stopped by Highcon's Drupa stand, I was immediately captivated by this new technology. It seemed such a total no-brainer that I expected to see them everywhere in a few short years. To further infatuate us Highcon rolled out just a dazzling array of samples, each one more stunning than the last. It's as if we were in the largest smorgasbord eatery with each dish exceeding the last. If a printer was looking for new revenue streams intricate giant snowflakes or an Origami looking box that opens like a flower, just might release those creative brain cells. But wait a minute……, run lengths must certainly be short and a lot of the diecut creations need to be finished by hand. This feels like history repeating itself. Only now it's not about stamped and embossed art, it's about good old diecutting.

Alas reality starts to re-enter the picture. What if the real revenue is currently for primal things such as door hangers, folding cartons and the odd tent? What if this mainstream work has runs in the tens of thousands? How can you make money when all these basic day to day Diecutting jobs run well on anything from a $10,000 Heidelberg Cylinder or Autoplaten? Laser technology already exists in the making of steel rule dies, so dies themselves are easy to get and relatively inexpensive. Besides the Heidelberg Cylinder is one of the fastest set-up diecutters around and that's why it has lasted since 1950.

All of these thoughts rush back in to forcing out what must surely come to pass: machines such as the Highcon will take over the market. But to get there these laser offerings need to run a whole lot faster. Run lengths may be shrinking but regardless Highcon's EUCLID III can only pump out only 1,500 sheets per hour. Compare this to the basic letterpress Heidelberg cylinder at 3,000 to 4,000 or a larger Bobst at 6,000 – 9,000 sheets per hour. Now calculate the actual costs of conventional machinery and you might agree Highcon's biggest hurdle – besides sticker price, is output. Likewise the diecutter is only one element in a production chain and must go through a traditional folder-gluer too; no savings there.

But you may surmise that now Highcon does have a faster machine! Correct. The recently launched BEAM in a 76 x 106cm size can process up to 5,000 sheets per hour. Plus both the BEAM and the EUCLID have the ability to strip waste. The old Cylinder presses can't strip. But this new BEAM is considerably more money than a new faster running Bobst or Iberica.

Although not too crowded, there are competitors to Highcon technology. US based LasX has been at it for a few years and builds a machine called Cartons in Minutes. This LasX model is an actual short-run complete line with a digital toner press coupled with the diecutter which is then connected to a straight-line gluer: producing a fully completed box. For short SKU's an ideal solution if no exotic effects are needed. Chinese supplier Hans- Gronhi is readying to launch the LC1060SF (40") and currently sells smaller less sophisticated lines such as the LC340S. These are said to run at speeds of 2,500 sheets per hour.

One must also take into consideration that if embossing or foil stamping (effects) are needed – and most of the time they are, then you must have another piece of equipment for that. SCODIX (another Israeli technology) or Konica Minolta's MGI JETvarnish are two leaders in this segment. All of a sudden there is a room full of machinery and growing list of consumables. Autoplatens such as a Bobst BMA is capable of "hot" stamping, embossing and diecutting -- (but generally not all three at the same time).

Unless all your business wants to do is amazing keepsake creations in extremely short runs, then today's largest run folding carton packaging will stay the course with conventional machinery. Folding carton plants remain reliant on the Autoplaten. Medium to long runs with speeds up to 9,000 s/hr. are possible. Think food and pharmaceuticals as examples of substantial run lengths. Bobst, Koenig & Bauer-Iberica and Heidelberg/Masterwork control the lion's share of this segment.

In north America where the buzz (no pun intended) is about the burgeoning cannabis industry, opportunities abound for paper packaging in what many are touting as a potential $500-billion revenue stream. If this turns out to be true most packaging could see long runs. Highcon's Beam at 5,000 sheets per hour is still short of what will entice conventional paper box makers, but not by much. It's now been seven years since Highcon shocked the printing industry. I'm confident we won't have to wait another seven for even faster lower priced versions to force us to change our ways. Faster and cheaper are the two targets for laser. Truly amazing creations and intricate cut out patterns are eyeball drawing and seductive, but will the printing industry sell enough or will they become loss leaders? Just as variable data has been slow to catch on perhaps short run variable data boxes will take time to find a market.

Perhaps if dazzling effects capture your imagination take a look at less sophisticated offerings available. Austrian firm TROTEC and Heidelberg's Polar DIGICUT-ECO are just two manual laser diecutters that won't break the bank and will allow you to enter into what will be the future of diecutting. Perhaps follow how the industry has dealt with specialty segments for well over 100 years; send your work out to a specialty trade- shop that can afford the equipment because they run it more.