Dean Becket's Mega Cycle Ride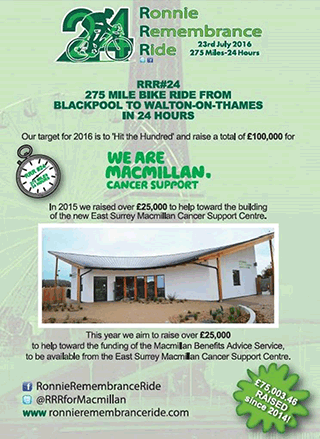 Dean Becket, Sales Director of leading machinery DPM in the UK is continuing to raise money for a very worthy charity. This year RRR (Ronnie Remembrance Ride, in Memory of his dad, Ronnie Beckett) takes on a whole new challenge.
They are cycling from the Blackpool Tower to Walton on Thames. That's 275 miles in 24 hours on the 23rd July 2016.
So far RRR has raised over £ 75,000 for Macmillan Cancer Support and last year raised over £ 25,000 towards the brand new East Surrey Macmillan Cancer Support Centre that opened in January 2016 in Redhill, Surrey.
Dean thanks everyone who has sponsored them in the past and asks all his friends to dig deep in their pockets and help them 'Hit the Hundred'…. ? They won't rest until they break the £100K target !
The JustGiving page link is: http://www.justgiving.com/DeansRRR2016



For those of you who would like to pledge corporate sponsorship can do so by sending a cheque made payable to Macmillan Cancer Support to Dean at DPM:
Direct Press Marketing Ltd
6 Churchill Court
Hortons Way, Westerham
Kent, TN16 1BT
Tel: +44 (0) 1959 569 900
Email: dean@dpm.uk.com
Read all the latest industry news »