Frequently asked Questions: what to consider when you are buying – new or used
Why should a printer consider second hand over new?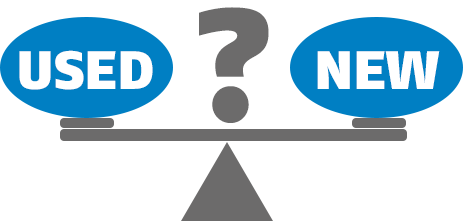 Buying a well-priced and productive used press or piece of bindery kit will significantly reduce the amount of investment a printer will need to make, and in many cases it will allow him to enter a market which he could otherwise not afford to enter. It is all about return on investment, and if a printer pays 60% of the price of a new machine for a used one which is 90% as productive then he will have a competitive advantage over someone who has bought new. Equally, for the cash available, he can buy a machine with a higher spec or more units than if he were buying new. Like modern cars, graphic arts machinery today, particularly from the top manufacturers, is built to last: it is reliable and forgiving and rarely goes wrong. Presses today with two or three hundred million impressions on the counter are a sounder investment with less wear and requiring less maintenance than a machine with a fraction of the impressions twenty or thirty years ago. They are engineered to a higher standard, and cams, gears, bearings, bearers, grippers and pads, for example, suffer less wear and last longer.
Is there a trend away from new to second hand?
I personally have been involved in the used printing machinery market for more years than I care to remember, and I can say that it has always been strong. It is less volatile than the market for new equipment: when, for example, the market for new equipment virtually collapsed after 2008, with consequent carnage among the manufacturers, the demand for used equipment remained steady and, according to some of our pressXchange advertisers, even increased. Europe, North America and the Indian sub-continent continue to present strong demand, but the opening of Africa and China for good machinery over the last 15 to 20 years has been phenomenal.
How should printers seek out and choose a supplier of second hand equipment?
Common sense is a good guide: ask your friends, look at the dealer's website, ask for the names of customers he has dealt with in your own country and contact them. You can also ask for financial information – readily available on the internet in many countries – and where appropriate visit the dealer: air fares are a lot less costly than a bad investment. PressCity and pressXchange, the two sites I run, cannot offer guarantees on their advertisers, but we do our best to weed-out any doubtful companies; many of our advertisers I have know personally and dealt with for thirty years or more and I have complete trust in their integrity. From time to time – much less often than you would think – we are approached by one of our users with a complaint; often it is about delays in delivery, occasionally about a part missing but rarely about the accuracy of the description or the quality of the machine supplied. While we have no legal standing here, we will act as a go-between or mediator, and very often our involvement seems to help in the resolution. A dealer who consistently fails to meet customer expectations will be excluded from the site.
Why should printers use a dealer instead of buying direct?
The simple fact is that most pieces of kit are bought by dealers, so at any one time there is a very limited amount of machinery on the market that can be traded printer-to-printer. This is not a bad thing: except in very rare circumstances it's always easier and safer for a printer to use a dealer both when selling and buying a machine. Yes the dealer takes a margin, but if he's good he takes away the hassle from quite complex transactions. Often in private sales both the buyer and seller are novices, unaware of potential problems and pitfalls; this is doubly true where the buyer and seller are in different countries. The dealer is a professional: he knows about values, he knows what makes a good machine and which ones to avoid. His business is handling the logistics of the sale – the dismantling, loading, transport, re-installation, servicing, electrical work, insurance, Health and Safety issues (varying from one country to another), trouble-shooting and training. Through his contacts he has access to a very wide range of equipment – not only what is currently listed on sites like pressXchange but what might be coming available as part exchange against a new press or through a finance company, or what a printer might be persuaded to part with if the right deal were offered to him.
Is finance easier / harder to obtain with second hand equipment?
A lot depend on the equipment: traditionally digital presses are hard to finance when new and even harder when used as fast technical developments mean they depreciate in value more quickly. At the other end of the scale every finance company rep salivates when he or she hears the name Heidelberg, and all the main manufacturers are treated with great respect. This applies both to new and to used. Most used machinery dealers will have earned the trust of finance companies in their home markets and will introduce prospective clients to them. If the client's balance sheet is not strong enough to support a purchase, the ability of a dealer to resell the machine if things go wrong or even to offer a full or partial buy-back guarantee can oil the wheels and make it happen.
How are buyers supported in terms of installation, training of staff and ongoing maintenance?
A lot depends on the dealer, and it would be wrong to assume that the smaller outfit or even a broker cannot offer full support, though he will out-source it from long-standing collaborators rather than having all services in-house. My comments up till now have covered purchases from dealers in the buyers own country: it can be a bit more complex when they are in different countries or continents, but even here many dealers will send out crews to install larger presses and can arrange on-going support on machines of any size through deals with local sub-contractors. The dealer is the person who should make things happen – arrange the move, the repairs, the installation, offer a guarantee or purchase break-down insurance. In the age of social media a dealer who doesn't offer, or offers and doesn't provide, full support to his customers will not be in business for long. I have done a quick run-through of the dealers who sell through pressXchange and, on average, they have been in business for twenty years or more, so they must be doing something right.
Read all the industry insider articles »