IPEX: A death is announced - or was it a murder?
John Roadnight, June 2018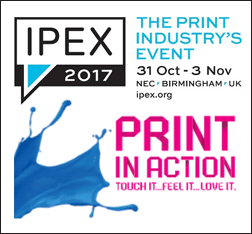 The last IPEX:
Too few of us loved it, or felt it…
The long-anticipated demise of IPEX has been confirmed by the organisers, Informa Exhibitions, following a very poorly supported and sparsely attended show in the autumn of 2017. To most people who attended the NEC it is news of a happy release rather than the shock of a bereavement. The announcement reads as follows:

"IPEX to close after consultation with print technology industry.

London, 26 June 2018: IPEX, the international print technology and equipment event, is to close after a period of consultation with the industry. The most recent edition, IPEX 2017, took place at the NEC in Birmingham late October and early November 2017. Over 150 companies from 20 countries exhibited to showcase the latest solutions in print technology and equipment, while over 7,000 visitors attended to source new products and keep abreast of industry trends. "

Rob Fisher, IPEX Event Director, said: "The changing market conditions and appetite for a large-scale event which focuses on Print in Action continues to be challenging. Having engaged with a range of exhibitors and partners to evaluate the options for IPEX, we have concluded that the requirements of the industry no longer match our own in terms of the cycle, scale and what is required to help us further support and fully invest in the brand."
Rob is putting a brave face on what is sad news for one of the world's oldest printing industry gatherings. When I attended my first show in, I think, 1964 it was a huge event which had already been going for over 50 year. It crammed the Earls Court and Olympia centres in London, and could have been twice the size had the venues allowed it. It was an amazing event for a school kid to see, with offset presses thundering all around - some running at a blistering 6,000 sheets and hour – and visitors from every continent apparently outnumbering native Brits.
In 2010 IPEX at the NEC in Birmingham attracted around 50,000 visitors, a significant decrease on previous IPEX shows. The 2010 show attracted fewer than half that number – 23,000 – and only 400 exhibitors. This was widely blamed on the decision to abandon the NEC for the ExCel centre in London, more expensive to visit and with more difficult access, and the IPEX organisers hoped that a return to the NEC in 2017 would reverse its fortunes – but it was too little, too late: attendees plummeted to 7,000 and exhibitors to 150. The whole show filled just part of one Hall, and one could hear bemused visitors, some who had flown in from the Indian sub-continent or Australia, asking where the other halls were. An international show which once rivalled DRUPA was reduced to what appeared to be a lack-lustre provincial print exhibition, ignored by all the major manufacturers.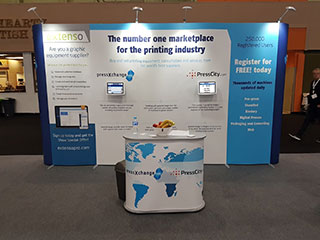 IPEX 2017: our stand at one of the busier moments…
PressXchange hosted the Used Machinery Pavilion at IPEX 2017 and around a dozen pressXchange dealers exhibited with us. Even the greatly reduced space couldn't hide the lack of people from the very start, and the absence of Heidelberg, Komori, KBA, HP and so many other of the industry's big boys meant their stays on site were very short. Some of our dealers did do business – mainly meeting old customers and friends, but making a few new contacts as well. The general reaction, though, was disappointment, and a pretty-well universal conviction that this was a last hurrah. Bill Jones, the boss of Exel Printing Machinery, asked the organisers what happened to the 12,000 pre-registrations they claimed to have some months before the show began, and he questioned their decision not to join forces with the Print Show 2017, calling it a serious error of judgment.
In an article that appeared on pressXchange just after the show, our contributor Andy McCourt gave some additional reasons for the failure of IPEX 2017: the change in ownership from stake-holder Picon to Informa in 2006, the "half-cocked" move back to the NEC and poor and uncommitted management. In a report in the Australian industry news site, Print21 he is more blunt: "The lesson should have been learned long ago – never move away from your market; nurture and cherish your customers and most of all – don't piss the trade media off!"
Another friend of pressXchange who can take the long view is a bit more forgiving. Nick Howard of Howard Graphic Equipment comments: "IPEX was the king of print-trade exhibitions. It was also the largest event in an English speaking country and the oldest by far. You'd have to go back to 1888 and London's famed Arts & Crafts Exhibition to get to the genesis of IPEX. Our first IPEX was 1980. This was the first time the show had moved out of London's Grand Buildings at Trafalgar Square for the NEC in Birmingham.
The 1980 exhibition was the largest [all] trade exhibition ever held in the UK to that point! Over 1000 international exhibitors in a 56,000m²space. The one highlight were two unique exhibitions featuring a display of British Coloured Books ca.18th & 19th century and the works of John Baskerville – the famed 18th century printer.
Let's not forget it was IPEX 1993 that we first heard of Benny Landa as that show was the launch of his Indigo!
By the time IPEX 1998 rolled around close to 2000 exhibitors packing 13 massive exhibit halls on a footprint of 85,000m² made it even bigger.
Usually a lot of finger pointing ensues when an iconic institution abruptly packs it in. But I believe it was inevitable. Nothing in this industry surprises me any longer. The manroland bankruptcy solved that for me. Since larger than life events have been the norm , not the exception. Industries change, technologies veers off to new directions on a whim. In its wake are the rest of us who try to make sense of it all. I really liked going to IPEX and thankfully had a front row seat to the very best of it. So no surprise to me now even though perhaps some poor decisions hastened the end."
Increasingly and in a shrinking market manufactures can no longer afford the huge costs of exhibitions, and so much information is available on the internet that the need and relevance of trade shows has declined, and this is reflected in visitor numbers in nearly all European and North American shows. This leaves DRUPA as the great world graphic arts show, but even this is not immune from changes to the market's needs: although the 260,000 visitors in 2016 mocks the IPEX figure of 7,000, it is still down a third from the nearly four hundred thousand attendees in 2008. So we need to nurture it: Long Live DRUPA!