The Birth of pressXchange… John ruminates on the birth pains of his creation
October, 2020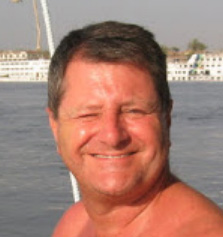 I could, of course, have come up with the idea of Facebook, Google or Amazon – all yet to be born – and now be pottering around the West Indies in my super yacht, but instead I came up with pressXchange. It officially launched on Monday October 2 2000 so is now 20 years old – quite a venerable age for a website. We survived the dot-com crash, the banking crisis, and we are still breathing in the time of Covid. All thanks to our great customers and my fantastic staff.
In the year of the millennium I had already been toying for a couple of years with the idea of a creating an online used graphic machinery marketplace: the used print machinery business was a global one, but how could a printer in Thailand or Chile track down the exact machine he wanted which could be anywhere in the world, owned by a dealer or printer he had never heard of? Often the printer managed to find a machine, but passing through a whole chain of dealers, each one adding a cut, and often he would have to compromise on what he finally accepted. There was then, as now, an energetic community of dealers in Europe, North America and Australasia and they did their best to publicise their wares, posting or faxing out stock lists to their few hundred loyal customers and hoping they would take the time to read them and then, if they got an enquiry for a machine, remember that Joe of XYZ dealer had stuck one on his list. They also, at huge expense, published their ads in the trade journals, but normally just in their own countries. There was, of course, this brand new wonder called The Internet, but dealers found their brand new, gleaming websites somehow got lost among hundreds of thousands of others, and if the search engines couldn't find them, so how could potential buyers? There needed to be a hub, a portal, where all the major dealers could list their machines and which the world of print and the search engines would visit and recognise as the reservoir of information.
But was I the guy to do it? Certainly, after thirty years in the printing industry, I knew it and, more importantly, I knew the major players in the used graphic machinery business, but I was nearly 50, years old, had been out of the business for a couple of years, knew almost nothing about the internet and had the IT skills of a gnat (something that has changed only marginally – luckily one can hire talent, and I have been lucky there). I had no premises, no team behind me and not much money. I had sold my house to downsize, but could I risk the money in my bank account on a very doubtful venture, and give up the modest but fascinating job I had taken outside the industry to see me through to my retiremAndent? what if one of the major trade magazine publishers – Haymarket in the UK, Deutsche Drucker or Der Polygraph in Germany or Printing Impressions in the US, for example, had had the same idea and blew me, my dream and my future out of the water just as I launched?
Impetuously in 1999 I decided to do it, and it turned out to be one of the very few gambles in my life that have paid off (my record in the stock and property markets is deeply depressing…). I threw up my job and started to think. What should the model be? Should we become a middleman, a sort of sub-dealer, taking a cut on every machine that was sold? In an industry turning over billions we might get rich, and quick! A few companies subsequently went for this model, with disastrous consequence for them. No, my gut instinct told me that neither dealers nor printers would accept this: we had to be a mere facilitator, and maximum transparency was required: buyers wanted to know who was the seller to whom they were talking, and the other way round. The revenue model had to be a modest listing fee, and we would get our few pounds per entry whether a machine sold for sod-all or a million US$.
I worked for months on the structure of the site – how it would work, which page would lead to which, categories and sub-categories and manufacturers and models in each, how people would register, search and send enquiries, templates for uploading machines, how dealers would manage their listings, how we would administer the site etc. Finally I had a 100 page blueprint for the site and went to see the only IT company I knew with experience of our industry – they had to be the ones to build it for me. I emerged deflated and desperate: they reckoned £500,000 should do it, a figure which was about twice the amount I had available for the whole project. A couple of other UK software companies I found on the web and sent it through to were not much better – either in terms of money or the time it would take. Then I got lucky: I chanced on a brilliant group of developers in Australia who not only built but designed the site, holding my hand every step of the way. They did it in a six week period, and for £60,000! The time difference even worked to our advantage: when I woke up in the morning I could check their work from the previous day and they would have my comments when they started again.
But what name to give the site? Although it was about more than just printing, I wanted the word "press" in it, as that is what I'd spent all my working life selling. PressUp? Press4Sale? Pressexchange? I liked the last one, until a friend pointed out that it was very similar to pre-sex-change, and might attract the wrong audience… So the "e" went and I registered the domain pressXchange.com. Lucky again, I found a recent graphic design graduate to come up with branding reflecting the idea of the re-using and recycling of equipment to new homes and markets. He came up with the colour, the typeface and our continuous loop logo, which I think has stood the test of time pretty well. As I remember, he charged me £150…
With the software and the design, next thing I needed was customers… Hoping they wouldn't look on me as an old has-been, I set out on a journey round the UK, Germany and the rest of Europe to meet my old competitors in the industry, explain the concept of PXC, shakily demonstrating the mock up to them and asking them to sign up for a trial. They came up trumps. I won't name them as I'm sure to forget a few, but I got overwhelming support from this great group of dealers, and their help and support continued throughout our early months and to this day, as virtually all are still customers (and friends) twenty years on. Dealers sometimes get bad press, but my own experience both as one of them and as an outsider is that they are at least as honourable and trustworthy as the people who decry them, and generally much more so. They live by their good reputations and work hard to maintain them.
A friend offered me an office below his men's clothes shop in Covent Garden (a great place to be, with friendly bars on our doorstep) and I recruited a small team of mainly old friends to work with me. Two intensive weeks of work loading more than two thousand entries onto the site and we were ready to roll. It was slow at first, but then the search engines found us, and so did potential equipment buyers around the world. New registrations grew, and so did the trickle of enquiries going to our advertisers. Just before my money ran out I could start invoicing clients, and I started to believe we might be safe. As new dealers joined their number approached and then exceeded 100, and visits to the site hit 40,000 a month. The feedback was good: they were selling machines: one dealer , Chris Bull, called me to say he'd just completed a sale to Burkina Fasso, a country he had never heard of! And he had a degree in geography… Before long we were the pre-eminent, go-to site for used printing equipment, and twenty years later, despite more competition, we remain so.
Our success was evident, and in 2007 I received a take-over offer from Haymarket Publishing, one of the main trade journal publishers. I sold. I was out! So why am I here at pressXchange thirteen years later, in 2020? That, as they say, is another story…