Wider still and wider...
Andy McCourt, November 2016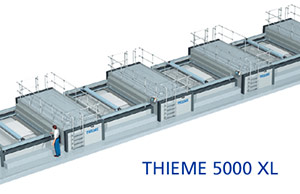 Thieme superwide format screen printing line
"…Shall thy bounds be set" so goes the song Land of Hope and Glory. When it comes to wide-format digital printing, while the width boundary seems set at 5 metres max – the scope for market growth appears almost limitless. But what exactly is 'wide format printing'?
Three drupas ago it still referred to oversize offset presses, such as those from KBA and Manroland sheetfed. KBA appear to be kings of wide, or XXXL, format in offset with the Rapida 205, printing a massive 1510mm x 2050mm sheet. The largest sheetfed press in the world is reportedly a 7-colour KBA Rapida 205 at National Posters in Chattanooga, USA. That's a lot of choo-choo at 272 tonnes and 30 metres long.
Not far behind in sheer size is Manroland sheetfed with the 900XXL capable of 1300mm x 1850mm sheets in the 'Format 8' configuration. Such oversize presses are typically sold into the packaging sector, with 0.6mm thickness being the norm and a 1.2mm corrugated option available.
Heidelberg has forayed into XXL size presses with the XL145cm and 162cm models but has so far not ventured into KBA's 185cm and 205cm sector. With such presses running at 12,000-18,000 sph, it goes without saying that you need a lot of large sheet throughput – posters, POP, packaging flats eg – to keep them busy.
Screen printing has probably suffered more from the advent of these supersized offset litho presses, but Thieme still holds its ground in screen process with the 5095XL capable of sheet sizes up to 2000mm x 3000mm and thicknesses up to 10mm. The vibrancy and coatings possible with screen process also goes a long way to keeping this great process alive.
Digital inkjet – the new pretender?

A 5 metre EFI Vutek GS5000 – Vutek pioneered superwide format digital printing
But what about that 5 metre wide printing? This comes from the newest wide format process and no prizes for guessing – it's digital, and inkjet in particular. It started with a company named Vutek in the early 1990s (now owned by EFI), although before that US billboard specialist MetroMedia Technology (MMT) developed its own supersize printer using a paint-nozzle system and huge rotating drum. Vutek pioneered super wide format digital printing and were joined in 1994 by an Israeli company Idanit, later to become Scitex Vision before acquisition by Hewlett Packard in 2005.
Another Israeli company NUR Macroprinters entered the market, also bought by HP, in 2008. All together, these pioneers of digital inkjet production up to 5 metres wide revolutionised the outdoor billboard market, where huge signs were once knows as '48-sheeters or 96 sheeters' because the screen or offset-printed sheets were pasted up by riggers who had to 'marry-up' the right sheets in the right place, like a mosaic. A 96-sheet site was about 3 x 12 metres and required 24 sheets.
As 3 and 5 metre wide digital inkjet machines gained popularity, these billboard super-sites became much better quality (there were no mis-registrations or peeling), and easier to set up. New materials such as outdoor PVC and canvas enabled one-piece supersize billboards to be laced up and stretched on metal frames, lit and changed easily – billboard 'skins.'
Lateral markets developed such as truck-side curtains; building shrouds, mesh for scaffolding, theatrical backdrops, fence advertising and even helicopter-towed giant signs. New entrants entered the printer market with names such as Roland DG, Mutoh, Fujifilm, Matan, Gandy, Mimaki, Agfa and Jeti. Many Korean and Chinese printers came available, of widely varying quality. Some found 3.2 metres was wide enough and didn't offer 5 metre models; 2.5 metres also proved popular for bus shelter signs, back-lit panels, POP and airport advertising.
It's now a flat world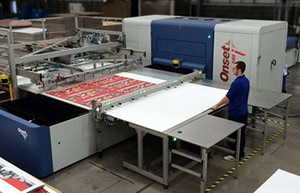 The Inca Onset Q50i flatbed UV -this one installed at Imprint, Newcastle, UK
In 2000, a UK company spun out of Cambridge emerged with the word's first flatbed UV-cured inkjet device – Inca Digital (now owned by Dainippon Screen). This printer could print on rigid materials up to 50mm thick and this opened up enormous potential in the POP, fabrication, architectural and decorative panel markets. Others followed such as Rastergraphics Arizona, bought by Océ and now part of imaging giant Canon. Fujifilm, Mimaki, SwissQprint, Durst, Agfa plus lesser known brands such as Flora, HandTop and Jetrix all dived into flatbed UV printers, or hybrid roll/flatbed machines using UV-cured inks.
The nett result is that the wide and super-wide format print sector has boomed, growing at 6.69% CAGR up to 2020 according to the article at "Recharge Asia". It is estimated to be worth almost USD$1 billion annually in printer sales alone.
Of course, this means that used machines are starting to find their way onto markets and these can represent a low-cost entry into the burgeoning sector. Things to watch out for are printheads; age and condition. The bulk of the cost of a superwide format printer is in the printheads and carriage assembly. Machines can have up to 512 piezo printheads costing $2-$4,000 each to replace.
It's all in the head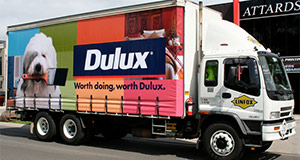 Truck side curtains become mobile advertising with digitally-printed graphics.
Depending on the type of ink used (aqueous, solvent, UV-cure or Latex); printhead life is affected by the degree of aggression of the ink. I have seen 7-year old printheads under a microscope where the nozzles look like volcano craters – yet they still eject ink droplets and the banners or billboards can pass for distance-viewed images. They need regular cleaning so maintenance history is critical too.
Printhead manufacturers include Xaar, Fujifilm Dimatix (Spectra), Ricoh, Konica Minolta, Toshiba Tec, Kyocera and others. They are all of the piezo kind in superwide, with the exception of HP's Latex printheads which are their own and thermal.
The media transport system, belts, gears, servo micro motors, need to be in good shape otherwise you are sure to get banding. Good inkjet roll printing is all about the synch between media transport in the x axis and a 'flying shuttle' printhead array in the y axis; sloppy gears or belts will affect that.
As with offset presses, stick with good brands for used wide format printers – HP Scitex, EFI Vutek, Fujifilm Acuity, Inca Digital, Screen Truepress, Canon/Océ, SwissQprint etc. Some of the cheaper superwides are rarely built well enough to survive a second owner.
There is plenty of support out there and plenty of market opportunity to diversify your print business by going superwide!
Read More Andy's Articles »