STICKY BUSINESS CAN PUT YOU IN A BIND
Andy McCourt, August'18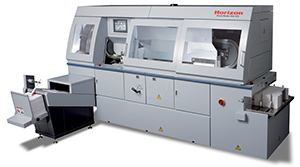 Horizon's ever-popular 4-clamp perfect binders,
such as this BQ-470, are always in demand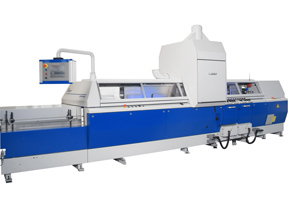 A Wohlenberg City e-6000, 15 up to 24 clamps
Muller Martini Allegro perfect binder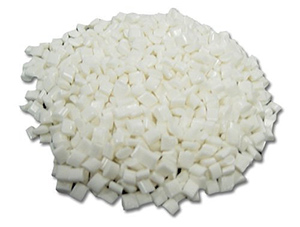 PUR glue pellets ready for hot-melting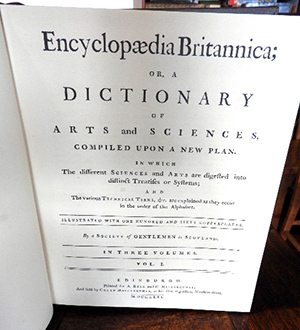 Good binding preserves important books for posterity, here a 1771 Encyclopedia Britannica...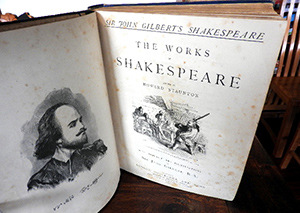 ...and 1882 Works of Shakespeare
For trivia lovers, Horizon is a portmanteau of the founder's name, Mr Hori and the Japanese honorific 'san' so, Hori-san anglicised to Horizon.
"The ties that bind" might mean section-sewing to those clever folks in the bindery department who make handsome finished books out of characterless sheets. Although excellent thread sewing manufacturers such as Italy's Meccanotecnica (Aster) have adapted to shorter run digital book printing – and indeed in Meccanotecnica's case, can integrate section sewn binding into a digital workflow such as Screen's EQUIOS - perfect binding using hotmelt adhesive is the hot ticket in most commercial binderies. Cold PVA (polyvinyl acetate) glue is used mainly in high-volume situations for both penetration, strength and economic reasons. PVA is essentially the same 'white' glue used in woodworking and can often be stronger than the material it binds.
You may have heard of perfect binders that use EVA or PUR adhesive – or both but what does it mean? EVA is the acronym for ethylene vinyl acetate, a long-established glue in perfect binders. PUR means polyurethane reactive material and provides a stronger, more flexible and temperature-impervious bind claimed to tolerate climates from -40C to +100C, which should adequately satisfy the library and book reading requirements of both Inuit Eskimos and Australian Aborigine peoples.
However, PUR requires a longer curing time, anything up to 24 hours, and is more expensive than EVA. In this on-demand need-it-now world, that is not always possible, so EVA is still widely used in the design of perfect binders from the major manufacturers such as Horizon, Müller Martini, Wohlenberg, Kolbus, CP Bourg, Duplo, Eurobind and others. Perfect binders cover a wide range of production levels from a table-top single clamp photobook model up to a mighty 24 clamp station Wohlenberg City e line for example. Such an automated line might feature programmable set-up, gathering of sections, automatic cover feeding, a gauzing station, fore-edge trimming and my favourite bindery term, the 'bind-grind' or milling station where the spines of book blocks are scored in order to make the glue penetrate further.
For trivia lovers, Horizon is a portmanteau of the founder's name, Mr Hori and the Japanese honorific 'san' so, Hori-san anglicised to Horizon. Founded over seventy years ago, it has the largest factory in to the world dedicated to print finishing, folding, collating, binding, stitching and cutting.
When buying a perfect binder it should be noted that, if using only PUR it will run slower than with EVA. Horizon is market leader in the single-to-four clamp binder sector and its popular BQ480 runs at up to 1,350 cycles per hour with EVA glue but only up to 1,000 cycles/hr when using PUR. However, the advantages of PUR in respect of lay-flat properties, high strength bind and the ability to glue bind coated offset stocks and digitally-printed jobs using powder or liquid toner often outweigh the speed and economy of EVA. It's smart of Horizon to offer a machine with both EVA and PUR, using twin tanks for the hotmelt adhesives.
At the higher end of book production are machines that can operate at up to 18,000 cycles/hr – here mention should be made of Kolbus, a leader in automated perfect binding equipment. In January 2018 it was announced that this part of Kolbus' business would be sold off, enabling the company to concentrate on packaging. The good news is that the purchaser was Müller Martini and that Kolbus staff and service engineers would transfer across, but still operate out of the Rahden, Germany former Kolbus factory. This ensures parts and service for all legacy Kolbus binding lines, which often come up for sale on PressXchange.
So, when it comes to choosing a perfect binding solution, consider the following:
What maximum capacity (cycles per hour) will I need? Go for the maximum demand + 10% because you don't want to create a bottleneck at your busiest time
PUR or EVA or both? Look at the above relevant pros and cons of each. You get a stronger, more flexible lay-flat bind with PUR but EVA is faster, cheaper and quite suited to books that will not be expected to last decades, e.g. annual reports.
For Photobooks, there are easy-to-use systems that combine steel strips with resin for personalized case making such as the Unibind 750A and Photobook-Technologies Mita range of casing-in solutions.
If you are at the high-end of book production where section sewing and PVA gluing is called for, well you probably know the choice is limited to names like Kolbus, Müller Martini, Wohlenberg, Zechini, Meccanotecnica, Tecnograf and a few specialist manufacturers such as Kugler-Womaco for passport books.
Bookbinding is a reliable, growth market despite the incursions of electronic methods. In some areas, such as Photobooks, the growth is exceptional.
For antiquarian and rare book preservation, there are still a few marvelously skilled traditional bookbinders at work. Looking at some of the books in my own collection that have been re-bound, I can not but help be in awe at both the skills of the original binders, and those of the preservationists. My 1771 three-Volume set of the first Encyclopedia Britannica, for example, sits proudly alongside my re-bound 1882 Sir John Gilbert's Works of Shakespeare, tight, complete and usable for another few hundred years.
Shakespeare knew about the importance of perfect binding, as Oberon said in A Midsummer Night's Dream, Act 4. Scene 1:
"Do as I bid you; shut doors after you:
Fast bind, fast find;
A proverb never stale in thrifty mind."