UV Print Technology is SO HOT right now
The advantages of moving to UV curing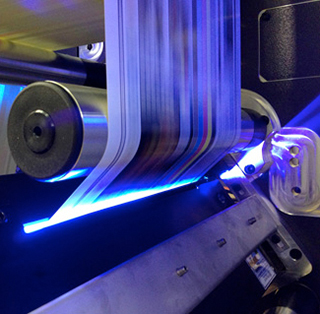 Ultraviolet (UV) printing technology or LED curing as its otherwise known, is a growing trend in the printing industry and certainly a hot topic in the printing world right now.
It's taking off with sheetfed commercial printers who want to offer competitive, faster turnarounds and use a wide range of substrates, as well as existing UV curing printers looking to reduce their energy consumption. More sustainable and environmentally friendly than conventional printing, it is also becoming more cost effective, meaning that in the future more businesses may be able to make substantial savings as well as offering their customers a better service, using this growing technology.
The main difference between this method and the more traditional one is that the ink printed on the paper is cured through a photomechanical process instead of having solvents in the ink that evaporate into the air and absorb into the paper. When the inks are exposed to ultraviolet lights they turn from a liquid, or paste, to a solid. There is significantly less evaporation of solvents and much less absorption of the ink into the stock. UV curing provides a variety of benefits for both the printer and their customer and is extremely successful for producing printed material on unusual substrates and on uncoated stocks.
The benefits of UV printing technology:
Environmentally friendly
One of the biggest advantages is that printers can work in a clean environment as there are fewer emissions of volatile organic compounds into the air since there's no evaporation of the solvents as with conventional inks. As UV LED lamps don't contain mercury, the need for disposal and the related costs are also avoided.
Immediate drying
UV curing allows instant drying giving immediate work and turn, immediate re processing, immediate cut and creasing. fast delivery from print to customer - which in turn also reduces work in progress and shop floor space required, elimination of all spray powder and a cleaner working environment.
Faster operations
LED lamps lead to faster operations and therefore higher productivity, as they can be switched on/off instantaneously without degradation of intensity. There's no lamp warm up time and no shutter open/close delay.
Use on non-porous substrates
UV printing allows the inks to dry on plastic and other non-porous substrates. As the inks dry through a photomechanical process it's not necessary for the ink solvent to absorb into the stock. Basically, if you can get the stock through the press you can print on it.
Great results on uncoated stocks
Since UV inks dry when exposed to UV light, the inks don't have time to soak into the paper, therefore avoiding excessive dot gain which can look muddy or too full. The ink dot is left sitting on top of the uncoated sheet, where it presents a cleaner less contaminated dot, ultimately giving more vibrant colour.
Print onto wider media mix
Thanks to the minimal heat output, UV curing printers can print on a wider media mix, and in particular on more heat-sensitive substrates without warping or wrinkling, e.g. thin slides, self-adhesive sheets, or stretched ceiling materials made of PVC fabric. It also allows for high scratch and scuff resistance and for coatings, high gloss and high visual appeal.
Little or no downtime
The LEDs last 10,000+ hours v. 1,000 hours for mercury lamps, with a consistent output over their operating life. There is no downtime for changing lamps, nor are there consumable lamp costs. The lifetime of the UV LED lamps is in line with the lifetime of the printer.
Big power savings and energy cost savings
As LEDs have a maximum energy consumption of 1 kWh per module, compared to 4kWh per UV-mercury lamp, they lead to large power savings—from 8kWh per engine (constant consumption) down to 2kWh (when printing). In many cases oil-based or water-based overprint varnishes and coatings are no longer needed resulting in material and energy cost savings as well.
While the initial capital cost, electrical running costs and an increase in ink cost remain fairly high, it is thought that this method of printing will become the most cost-effective printing method in the long term. As competition to satisfy customers' demand for fast turn-around print increases, the benefits of LED curing in generating extra business, expanding the range of high value materials and coating effects, cost savings and taking care of the environment, become more and more attractive and so its prominence in the industry could soon be boosted.
So is it for you?
If you're thinking of moving to this method of printing or integrating it into your offering but already have existing printers in place then don't be put off. Retrofitting a press is very simple, and only takes around a day. With minimum disruption a printer can move from conventional drying technology to LED curing. It's relatively easy to upgrade existing drying systems into printers by installing UV curing system modules to suit your application. For example – UV interdeck modules can be installed on any print unit where UV inks are being applied and UV end of press modules can be installed into the delivery to cure (dry) UV varnishes when applied.
If you're interested in buying a printing machine with LED curing or a reconditioned or retro-fitted press with UV curing capability, check out what's available here
Read all the latest industry news »