Drupa and the used machinery market

Visitor numbers
With the normal fanfare, the official figures for attendance at Drupa 2016 have now been released in the "Fair Profile". While this Profile does not give historic comparative numbers, a little research and a closer look at the figures show visitor numbers have decreased by 55,000 from the last show. 315,000 people attended in 2012 compared to 260,165 in 2016, a 17.5% drop. Compared to the 390,000 visitors in 2008 the drop is even more dramatic: one third fewer visitors.
Europe provided the largest number of visitors (68% of total, including 25% from Germany) with Asia next at 19%. North America only scraped together 9% of the total, with Africa at 3%.
Of Hall 13's 71 exhibiting used graphic equipment dealers 54 were pressXchange and PressCity advertisers – an impressive 76% - and many more visited; most are old hands who have been there many times, so what impact has this declining number had on the results they achieved and the business they managed to do? Is this a blip or an indication that the future of the world's most important printing exhibition is in doubt?
From the pressXchange stand we had the opportunity to talk to many of the machinery dealers whose machines you can find on this site, and we asked them for their reaction to the show, how the used machinery market is changing and how dealers can adapt to those changes.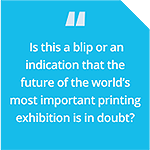 Pre-owned machinery dealers were grouped together in Hall 13, a long way from the Messe-Center and main entrances and, perhaps more importantly, a long way from Heidelberg in Hall 1 – still the place most of their customers wanted to see. The first hour or two each morning was pretty quiet in Hall 13 until visitors trickled through, but on most days the hall began to buzz from late morning and stay humming until the show closed at 6 o'clock, though it could rarely be called busy.
Exel, COCI and Paradowski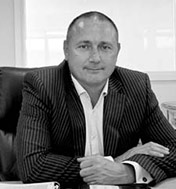 Exel Printing Machinery Ltd, one of the larger and longest established UK dealers, shared a rather impressive stand with Close Brothers Asset Finance Limited, a UK leasing company. Exel's owner Bill Jones thinks that a high number of visitors is important – even if they are not buyers at the time it is important to harvest their details and add them to the contact list. He did do business at the show, most of it which would not otherwise have been done, but it was not up to expectations: people were not generally in a buying mood and there were fewer serious negotiations.
Denis Picquenot is the boss of Coci, one of the largest dealers in the world with over 60 employees in France and 100 worldwide. Denis noticed there were fewer end-users at the show and more dealers from outside Europe. Drupa was not a great show in terms of spontaneous sales, but they had expected this to be the case and so were not caught out by buying a lot of extra stock. But it is a great opportunity to meet face to face every four years overseas contacts and customers.
Bill Jones noticed fewer visitors from India (5% according to Drupa figures) and the USA (3%) to Hall 13. Nigerian buyers, he says, were also thinner on the ground though more ready to buy. China's current economic slowdown was reflected in their contributing a disappointing 3% of attendees, most of whom were not spending money. Bill believes that many Hong Kong and Chinese dealers have overstocked and that, as far as European suppliers are concerned, sales won't begin until this back-log has been sold into the market. Denis of Coci agrees that Chinese dealers are overstocked but says that the huge size of the market means that there is always a deal to be done somewhere. Russia, by contrast, is very slow. Perhaps surprisingly given political turmoil and the low oil price, printers from the Middle East were relatively plentiful on the stands and were serious about buying – something also commented on by Bill Jones and by Lutz Redmann of Paradowski, a long-established and respected dealer from Hamburg, Germany.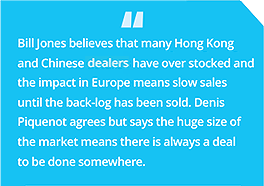 Lutz also spoke of the dearth of US printers, and was disappointed at a smaller number of attendees from sub-Saharan Africa – Nigeria has proved a good place to do business in recent years. The timing of the show in June rather than May, clashing with Ramadan's start on the 6th June, was not helpful, he says.
Lutz did make sales at the show to both old friends and new contacts, but they were generally of smaller pieces of equipment rather than the long perfectors and VLFs (very large format) that between them make up a large part of Paradowski's sales. Hype aside, are a lot of sales really done at the show? Bill draws an analogy between exhibitions like Drupa and high street stores: people go there to see what is available, but their final decision will generally be made after research on the internet where they can see the totality of machines on the market all in one place.
The Growth of Digital

The most obvious thing at Drupa was the retreat of sheetfed offset against a tidal wave of digital offerings – perhaps best illustrated in the reduced floor space taken by the cast iron giants of Heidelberg, KBA, Manroland and Komori compared to hall after hall of sheet-metal boxes with monitors on top. Does this accurately reflect buying patterns, is it showing in current sales and what effect will this have on dealers in the medium and longer term? Bill thinks that it is already impacting on market for both new and used presses but that there will still be a very important role for large sheetfed presses for decades to come, particularly in areas like packaging. He admits, though, that the cut-off point in run-length above which it is not economical to use digital is getting higher, and the use of sheetfed feeder and delivery technologies in "hybrid" machines will only add to this. He thinks that digital manufacturers are doing all they can to stop an effective used market in their presses by a lack of cooperation in terms of support and providing maintenance contracts. Paradowski's Lutz Redmann agrees that digital is depressing offset sales, but the continuing high cost of consumables makes him confident that sheetfed litho will remain dominant for several decades to come – a good thing as it will be difficult for companies like his own to make the transition into selling digital presses.
Coci has found that digital growth has not affected sales too much in the B1/40" market but it has in B2/28". Digital is growing strongly in western countries but still has made little impact in developing markets. Denis believes that the digital market is still not mature – presses become obsolescent too quickly and so for many printers do not represent a good investment. In any event Coci is not focussing on digital presses – they will continue to concentrate on sheetfed presses and see a good market there for the foreseeable future. The use of sheetfed presses in packaging is growing, particularly in Asia, and this should offset the decline in general sheetfed printing. Coci does not have its own digital specialists but uses highly trained sub-contractors to give customers the service they require when Coci supplies a digital machine. He agrees that the growth of digital at the expense of sheetfed may be why Heidelberg has entered the used field with so much enthusiasm.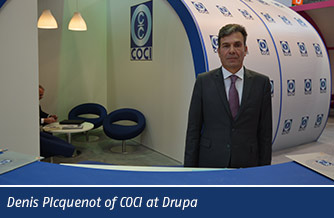 One dealer mentioned his belief that Heidelberg has cut production and that this has led to a lengthening of delivery times. This should be good for the used market, but it is also helping KBA and Komori to land sales. Perhaps to combat this Heidelberg Remarketed has become a serious player in the used machinery market, using its matchless databases of customers and its international network of salesmen and agents. Certainly Denis Piquenot of Coci now sees Heidelberg Remarketed as their biggest competitor. He believes that aggressive pricing from Heidelberg and KBA on new and used is making the North American market difficult, but his strategy of selling there mainly through or with the assistance of local dealers has helped Coci keep their market share: the local dealers can provide the infrastructure and local support in terms of shipping, rigging, arranging finance which customers appreciate.
Printing and Graphic Machinery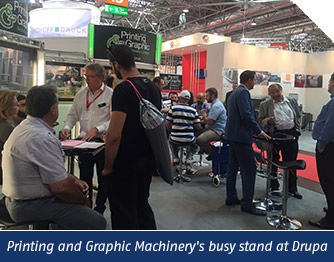 Printing and Graphic Machinery has been trading from the UK since 1977 and are unusual in having a pretty well 50-50 split between sheetfed and large binding lines. Managing Director Guy Churchill was very encouraged at the number of end-users from Turkey who were actively looking to buy. Negotiations are ongoing and Guy does not know what effect recent political upheavals there may have, but he is very hopeful of successful sales. He too noticed fewer Indian buyers and speculates that this may be influenced by changes a few years ago in import duty regulations which have made some imported machines considerably more expensive. He was fairly happy with the number of visitors to Drupa and to his stand – it was a lot more successful for them than IPEX 2014. The Internet has made many shows less relevant, and Drupa may now be the only European show they attend – a decision has yet to be taken. Cannily and unusually they have designed their stand so it can be re-used, cutting the cost of each exhibition by a few thousand pounds. Guy believes Drupa is all about reaffirming existing ties and making new contacts, the benefits of which take more than a few months to become evident. It's a major investment of time and money but should not be judged on just number of sales: the quality of contacts and putting faces to names can become invaluable.
In any event the show paid for itself for PGM: Guy sold a large Kolbus line and bought a long perfector which he had not previously known about: they are now in advanced negotiations to sell it, though he won't at this stage tell me where… He did, though, say that there is a very good market for Heidelberg and KBA six colour plus presses with coaters – particularly to packaging companies for which they are particularly well suited. Another dealer thought the growing demand for KBA presses is perhaps because they are considerably cheaper that Heidelberg equivalents – up to 30% on long perfectors. Printing and Graphic also used Drupa to publicise their involvement in selling flexo presses, an area handled by Monika Turek.
Aribas Printing Machinery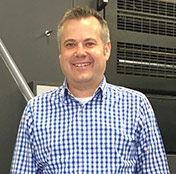 Aribas Printing Machinery in Germany, in business since 1986, spent close to €100,000 on attending Drupa, says sales director Ralph Schmitz. Even for a large and successful dealer like them with around €20 million annual revenues that is a lot of money, and Ralph wonders whether it could not have been better targeted by making more visits to existing customers or new markets, or organising sales events for them. Drupa did not bring that many new potential customers, though Ralph is very proud that the one and only significant sale they did at the show was at the end of the last day when nearly all the other dealers had packed away their laptops and left for home! With China so slow, Aribas' main markets are North America – still doing well at the moment – Italy and Spain, and he welcomed a spate of visitors from Serbia and other Balkans nations. But Drupa has not brought the surge in sales that he and some other dealers expected.
Ralph also commented on the growth in KBA sales, now at around 30% of turnover. Manroland sales are slower than before, though a couple of recent MR 700 sales boosted them to nearly 20%. Heidelberg is still the biggest seller, though Komori is making inroads, particularly in Italy and Spain. Interestingly, Ralph think this is because Komori presses need much less costly maintenance than their German competitors. He doesn't feel that digital press sales have yet impacted on sheetfed sales in the used market.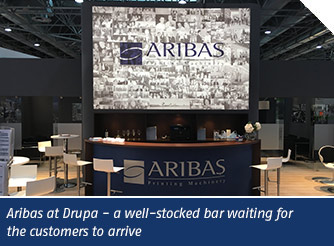 World markets have become more unstable than in the recent past, and Deni Picquenot has changed Coci's business model. They are not chasing the vanity of revenues but the sanity of better margins, and this has led him to hold less stock. This helps the company to react better to quick market changes and it is also less risky in an uncertain market. Coci has excellent market intelligence due to their dominant position in the market over many years: they know where equipment is and so they are normally able to source against demand rather than tying ever larger amounts of cash up in stock. They sell worldwide, so generally a downturn in one area is compensated by another region. It may not be a major driver of revenue for such a well-established company, but Coci will continue to exhibit at Drupa – the only show at which they take a booth. This is reflected in comments by another dealer: they will have a good year in 2016, but Drupa will not be a main contributor to it.
Conclusion

Exel's Bill Jones sums up by saying the show was "not as bad as it could have been and not as good as it should have been." The cost of exhibiting is very high, and I have heard estimates that some dealers must have spent between €60,000 and €90,000 in all on the project; if that is the case they have a lot of money to earn back before they break even. Was it worth it for Exel? Bill won't say how much he spent, but says it was worth it: a dealer of importance like Exel has to be at this of all shows. He points out that you can't quantify the value of the show so early: renewing contacts with old clients with whom he has lost touch can be very valuable, and any one of the visitors whose details he now has on file could turn into a very good customer in years to come. This reminds me a bit of Chinese Premier Zhoe Enlai who when asked in the 1970s about the impact of the 1789 French Revolution said it was too early to tell…
While not over-flowing with enthusiasm for the results of Drupa, Lutz agrees that this is a show where he has to be seen, and he did recover Paradowski's exhibition costs through sales. While a great fan of promoting his company online, he too stresses that personal contacts are very important, and Düsseldorf is a great place to make them. He is, though, relieved that the promoters have decided to keep the show's traditional four year cycle rather than the three years they had earlier proposed.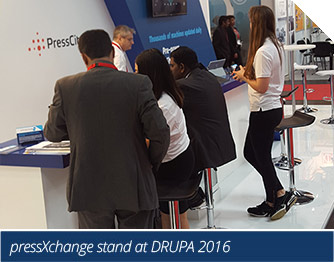 Peering out from the pressXchange stand and making the rounds of all those wonderful customers whose advertising keeps us in employment and pays our bills, I perceive that there is another reason for so many dealers to be at the show and to spend so much money, time and thought on producing (and staffing) some very impressive stands: dealers love these regular jamborees, the chance to meet together, swap stories, brag a little, gossip, arrange a round of golf and, I've heard it said, even have a few drinks together - there were a few sore heads and ashen faces each morning when the show opened. They may be competitors, but they are also sociable. I have worked as a dealer and with dealers for over forty years now, and I can say, hand on heart, that the large majority of them are honest and straightforward women and (still predominantly) men. They certainly like to make money, but they also want their customers to know that they have got a good deal and to come back to them, which many do time after time. Very few of the dealers in Hall 13 had to hide their heads in shame at Drupa.
There were moans and groans about the show – the distance of Hall 13 from the main entrances, the heavy costs of exhibiting and the extortionate charges for access to a very indifferent internet service – but most dealers enjoy it and think it is worthwhile for their businesses. Even if they don't recover all their costs it is important that they be there and be seen there. Drupa is the international crossroads of the graphic arts industry; it is a fixture in the industry's and dealers' calendars, and will continue to thrive as long as there's still an industry and machinery dealers.
Read all the industry insider articles »