GOA 2017 Debrief
Kieren Unwin, February 2017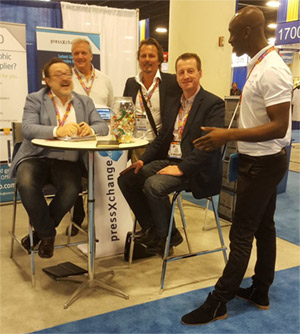 "After making the finishing touches to the stand (mainly filling jars of sweets), we were ready. In opposition to the set-up day, they had the AC turned-up for the show-goers and shorts & t-shirts would have given you goosepimples. Graphics of the Americas 2017 kicked off with a procession of percussionists, drummers and trumpeters, flautists, saxophonists and dancers. A flamboyant and energetic start.
It was a fascinating eye-opener for me to start my time at PressXChange and the industry as a whole with a large numbers of machines on display, demonstrating printing capabilities on a huge array of surfaces. Vibrant colours coating the rolls of materials spilling on the floor.
Many mentioned that the show was a little quieter than previous years, however, we found a steady stream of customers over the 3 days. With a combination of both North and South American attendees and a good representation from Europe, we were able to meet and connect with clients all over the world. With plans for expanding our prominence in the South American market, this was a fantastic way to get face to face with a number of potential customers. A great balance of dealers and users visited our stand introducing themselves and more than happy to engage with me as the newbie. GOA 2017 proved to be a great meeting point in a more socially relaxed environment, which allowed us to enjoy our time as well as talk business. Till next year." [By Kieren Unwin, GOA 2017]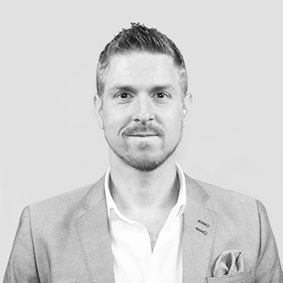 With PressXchange expanding, Kieren Unwin has joined as the Strategy and Operations Director, tasked with pushing our products and services forward globally. PressXchange owns the largest combined network and online marketplaces for graphic equipment and services.
Unwin (pictured) joins after heading up Crowdtech BV as the UK Director – a cutting-edge technology platform facilitating qual and quant research, Unwin was tasked with platform/brand development, website designs, client engagement and project management. Prior to Crowdtech BV, Unwin worked for SSI-owned research and technology firm Instantly and Research Now, where he was heavily involved in relationship management, database segmentation, product analysis and on-going competitor research.
Commenting on the new hire, Owner and Founder John Roadnight said: "We have been the leading marketing platform for Used Machinery sales worldwide since 2000, and are delighted that Kieren Unwin has joined Zeke, me and the team. Kieren brings a wealth of specific expertise which will be vital in our future visions of growth and innovation for PressXChange, PressCity and Extenso."